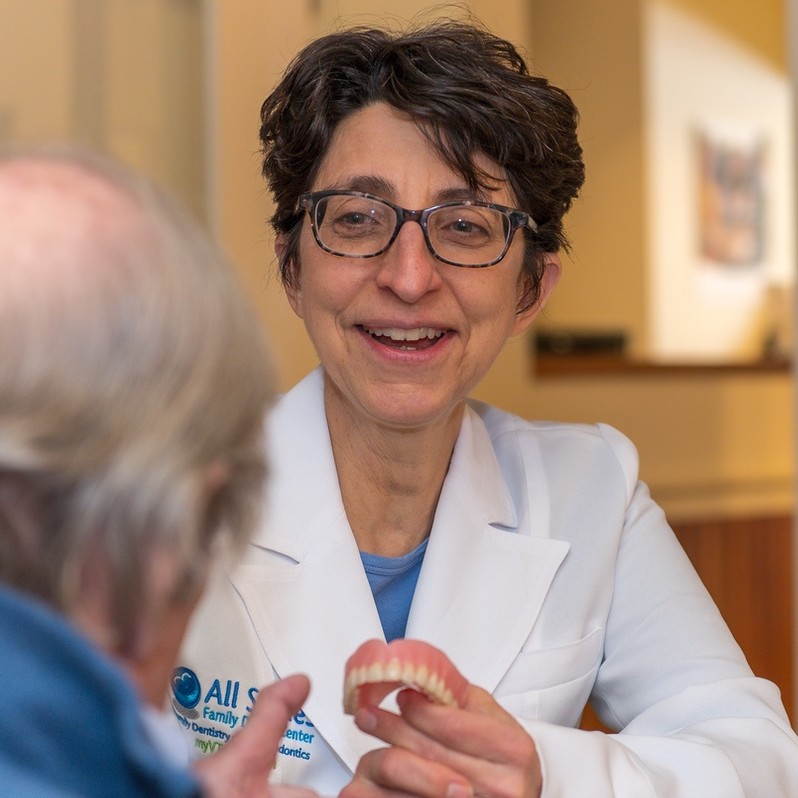 Meet The Dentist
Dr. Lynne J. Addiego, D.M.D.
You can expect compassionate dental care from us each and every visit. "We will always treat you respectfully and will be responsive to your needs", says Dr. Lynne Addiego.
"With modern dentistry and technology, there really is no reason to be afraid or uncomfortable. You can have the smile you always wanted, with little to no stress. We will do everything possible to make your visit as comfortable as possible, from our complimentary Bistro area and WiFi Internet access, to a warm blanket or pillow during treatment, your comfort is important to us."
Her kind demeanor and ability to make even the most frightened person feel at ease give Dr. Lynne great pride; "It is not even uncommon for patients to fall asleep in my chair".
Dr. Lynne Addiego received her BSN at Georgetown University, where she graduated with honors, and was inducted into Sigma Theta Tau, an international nursing honor society. Dr. Lynne graduated from Tufts University School of Dental Medicine in 1991, where she received the clinical excellence award. After graduation, she completed a one-year general practice residency at Cornell University Hospital. Dr. Lynne has completed numerous hours of continuing education in dental advancements pertaining to dental implants, periodontal (gum) therapy, and cosmetic dentistry. At All Smiles Family Dental Center, we are always searching for ways to improve the patient experience. We use cutting edge technology to educate our patients, reduce their exposure to ionizing radiation, and provide the most advanced treatment options and materials available today.
Dr. Lynne's nursing background contributes to her holistic approach to dentistry: "Your total health is affected if the condition of your teeth and gums are compromised", says Dr. Addiego. "In planning your care, I consider the whole person and your individual needs, and involve you in the care planning process to make sure you receive the most optimal care for you."
Dr. Lynne's compassion extends beyond the dentist's chair: In June of 1996 she received a prestigious first responder award from the Newport ambulance squad, the second ever awarded, for that lucky day when she and a fellow hygienist saved a man's life with CPR.
Dr. Lynne's outside interests include dogs, reading, hiking, sewing, baking and spending time with her family.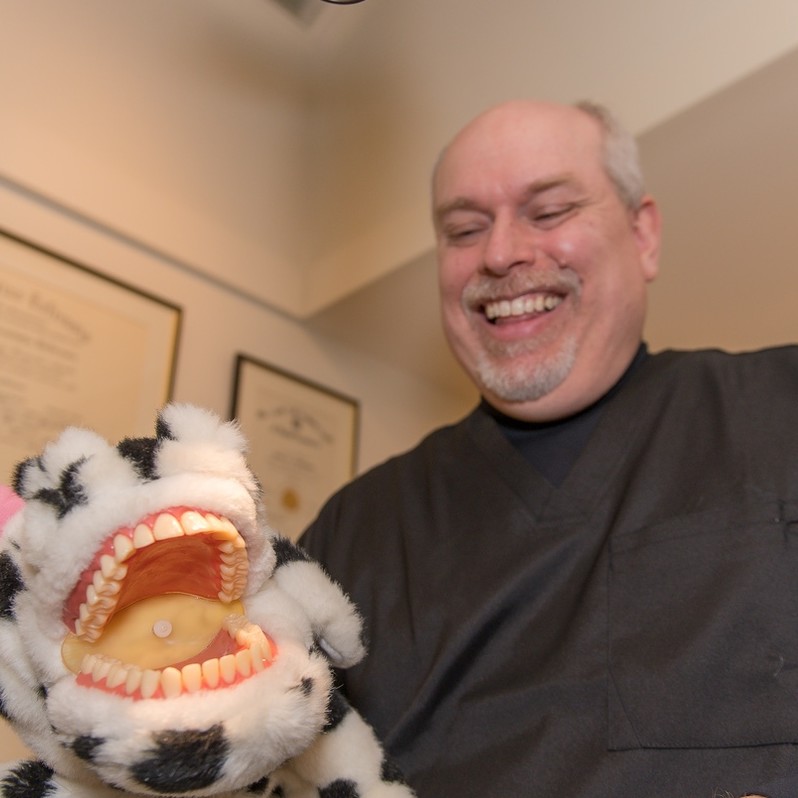 Meet The Dentist
Dr. John F. Steinman, D.M.D.
"What's in a smile? Your Smile is the first thing people notice and plays a big part in their impression of you." Says Dr. John F. Steinman of All Smiles Family Dental Center.
He has been in practice here in central Vermont since 1994.

According to Dr. Steinman, "A warm inviting smile can put anyone at ease; it is one of your most important physical attributes. The positive effect of a warm, inviting smile on personal, social and business relationships, is undeniable. Here at All Smiles we use the latest innovations in ultra modern orthodontics to give you the best possible smile." After your free initial consultation, our Dr. John and his team will present you with the best solutions to achieve your desired smile. Crooked, rotated, and tipped teeth will gently be moved into a more pleasing composition with traditional therapies, or the tremendously popular Invisalign system. Stained teeth can even be whitened! At the end of the day, it's really all about you and your smile!
Dr. John's professional affiliations include: The American Dental Association, American Association of Orthodontists, Vermont Society of Orthodontists, Vermont Dental Society, and Tufts Association of Orthodontists. John also served as the President of the Vermont Society of Orthodontists and as a Director of the Northeastern Society of Orthodontists.Dr. John also serves on the Barre City Council, representing ward one.
From his gentle and easygoing banter with his patients to his drive for perfection, Dr. John Steinman is anything but typical.
Dr. John attended the Green Mountain Valley School, a ski racing academy, as well as Hardwood Union High School. Even though skiing and model building were his passions, he earned enough credits to graduate high school as a junior! He attended the University of Vermont as a chemistry major, where he made the dean's list his sophomore and junior years as well as becoming a member of Phi Delta Theta. After College, Dr. John worked for the Sugarbush ski school, but he really wanted to do more. One evening, a good friend of his called him and said "I am just about to finish my first year of dental school, why not come on down and see what it's all about." By next fall, Dr. John was a bright-eyed first year dental student at Tufts University School of Dental Medicine! He graduated Summa Cum Laude from Tufts and was elected to Omicron Kappa Upsilon, a National Dental Honor Society, from which he received the prestigious Dr. William S. Kramer Award for scholarship, character, the advancement of dentistry, and service to humanity. He also received awards from Alpha Omega, The American Association of Oral Pathologists, as well as merit scholarships from Tufts University.
Dr. Steinman and Dr. Addiego met at dental school. They married after graduation and have been life long best friends and business partners ever since. They have 2 children.Their son attends the University of Vermont and is studying to be a mechanical engineer while their daughter attends Spaulding Highschool and also plans to attend UVM! (#Go Cats Go!)