About Us
Our team of dental professionals is headed by two of northern New England's most highly recommended dental health professionals: Dr. Lynne Addiego and Dr. John F. Steinman.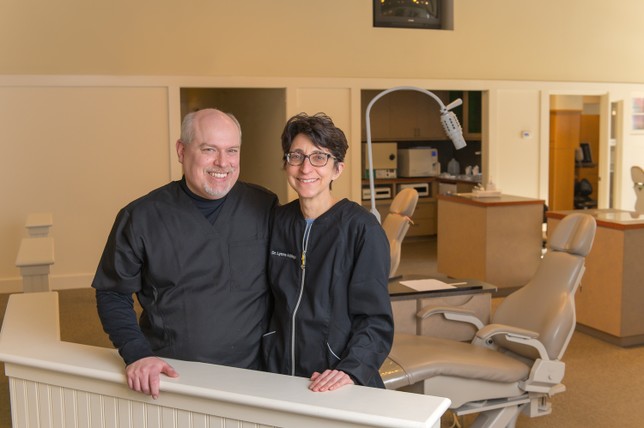 This husband and wife team constantly updates their training and treatment protocols, utilizing the safest and most effective leading edge dental technologies in an eco-friendly, holistic and biologically aware fashion. All Smiles believes in patient empowerment and delivers integrated and individualized care.
It is Dr. Lynne's and Dr. John's mission to provide the best dental, cosmetic and orthodontic care possible while being sensitive to the fact that each person is a unique individual and that cookie cutter treatment modalities are not "right" for everyone.One size definitely does not fit all.
You may be looking for a new dentist, exploring cosmetic options to enhance or "makeover" your smile, or find yourself in need of new dentures or a denture repair. You may have a suspicion that your son or daughter may need braces soon, or you would like to learn more about straightening your smile. Perhaps you would simply like a second opinion from a trusted and well-respected local Vermont family dentist or orthodontist. Well you're in the right place! We believe our patients deserve all the information needed to make wise choices.
Please read on, or contact us toll free at 1-800-377-2339 to arrange for a free, no obligation, initial braces or denture consultation to get the information you need to make the right dental decisions. Sedation dentistry is also available for those who just don't enjoy going to the dentist.
All Smiles offers both children and adults of all ages straight teeth and beautiful smiles using braces and treatment options that include: The Damon® System, Invisalign™, Invisalign Teen™ and Invisalign First™.
All Smiles Family Dental Center of Berlin, Vermont is a well equipped, state of the art facility, conveniently located on Route 302, the Barre-Montpelier Road, about equidistant to the twin cities of Barre and Montpelier. We offer both handicapped access and ample parking.
We Are a Digital Impression Practice Proud Owners of an iTero® Element™ Intraoral Scanner and that means we will make a great first impression, every time!
The iTero Element Scanner is a state-of-the-art digital impression system that eliminates the need for messy putty in your mouth. With our iTero Element Scanner, we can digitally capture a detailed 3D model of your teeth and gums. Not only is this process far more comfortable than the old putty based impressions, but it's faster and can offer a superior clinical endpoint. During the scanning process, you can breathe or swallow as you normally would. You can even pause during the process if you need to sneeze or just want to ask a question
Also available is Silver Diamine, a new way to treat early cavities. Silver Diamine Fluoride is an FDA-approved antibiotic liquid clinically applied to control active dental caries and prevent further progression of disease. While the ideal way to treat teeth with decay is by removing the decay and placing a restoration, this alternative treatment allows us to stop decay with noninvasive methods, particularly with young children and older adults.Treatment with Silver Diamine Fluoride will not eliminate the need for restorative dentistry to repair function or aesthetics, but has been effective at prevention of further decay.
All Smiles is fully certified to restore dental implants, a leading edge technology that can stabilize a patient's loose denture or replace one or multiple teeth with fixed bridgework. It is a very viable choice for many denture patients and compliments the extraordinary and artisan quality All Smiles denture lab.